Help Reduce Bendigos Landfill
garden waste recycling
your greenaway bin
Help Reduce Bendigos Landfill
garden waste recycling
your greenaway bin
Help Reduce Bendigos Landfill
garden waste recycling
your greenaway bin
Greenaway Bins offers professional and friendly service.
Have all your garden waste picked up from your kerbside once a fortnight.
Imagine no more trips to the tip or unsightly heaps of lawn clippings and prunings in your backyard. Greenaway Bins endeavor to reduce the region's landfill by diverting green waste for recycling.
Greenaway Bins offer a 240 litre garden waste wheelie bin picked up from your kerbside fortnightly.
---
Every service under one roof
---
All options are backed by our outstanding service, collecting the bin from your kerbside fortnightly. No more expensive trips to the tip!

Castlemaine services include: Big Hill, Harcourt, Ravenswood, Chewton, Campbells Creek, Guildford, Newstead and Maldon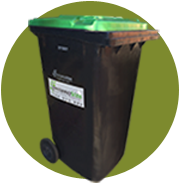 1 x 240 Lt Bin – $135
We can provide 1 x 240 Litre Bin for just $135 that's just $2.60 per week for a 12 month contract. Bins emptied fortnightly – 26 collections a year.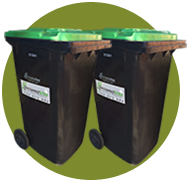 2 x 240 Litre Bins – $205
We can provide 2 x 240 Litre Bin for just $205 that's just $3.95 per week for a 12 month contract. 2 green away bins double the convenience. Bins emptied fortnightly – 26 collections a year.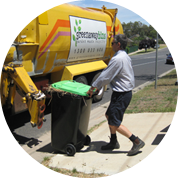 Spring Clean
6 Bins for $90.00 (existing customers only) 2 Collections for 1 month only Total 12 empty bins.
All other enquiries please call
1300 033 606
Testimonials
---
We to hear what you think of our service
"Take it away The Greenaway Way"
Greenaway Bins customer Narelle Stone said it was the environmental aspect that motivated her into contacting Greenaway Bins.
"We found that our rubbish bin was always more full of garden waste than anything else. We recently decided to reduce to the smaller council bin at the reduced cost and reduce our contribution to landfill. The saving has almost paid for our Greenaway bin. Narelle said her husband is the real gardener. We have a very large garden & Rob is the one who does all the cutting and mowing, so the ease of disposal means we have more time to relax and enjoy the garden, with the knowledge we are reducing Bendigo's landfill problem"
- Narelle Stone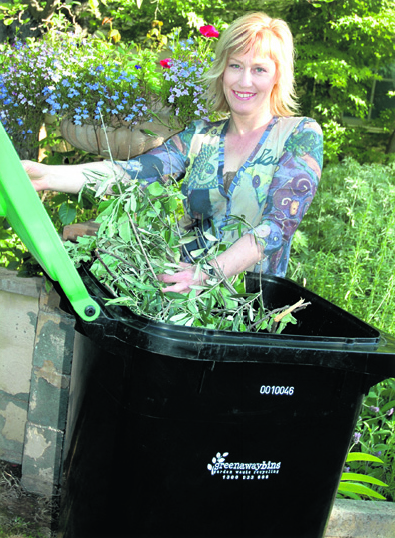 "Independence with Greenaway Bins"
I really appreciate the Greenaway Bins green waste recycling service. It means I don't have to depend on my family and friends. This service has given me some of my independence back, and I can tell you, I love that.
I certainly sing the praises of the Greenaway Bins company at every opportunity as I know this is a great thing for other people in my situation. It is good to know all my green waste is being made into a natural product. I was so happy I sent the company a letter of thanks.
- Beryl Bridges
"Greenaway Bins Double Up Service"
We originally contacted Greenaway bins when we bought a new car. Our trailer needed a lot of work and it was going to cost a lot to have a tow-bar fitted, not to mention the tip fees. We did our sums and we could upgrade to 2 bins. It would work out to 10 times less than the trailer to the tip option. We have found the Greenaway Bins service to be really great.
- Frances McCullough, (Strathfieldsaye)
"Happy as Larry"
I started off with one single bin. I just found it the service just so convenient. I have a very leafy garden, so after 12 months, I rang to see if we could get an extra bin. The Greenaway bins people were great and were quite happy to deliver it. So I'm happy as Larry with the service.
- Keith Holland, (Flora Hill)